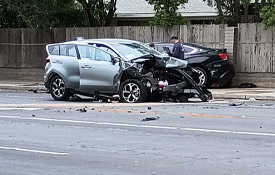 Stockton, CA (May 5, 2023) – A tragic accident on Bianchi Road and Townhome Drive in Stockton claimed the life of a woman in her 60s on Thursday afternoon, according to authorities. Authorities are currently investigating the multi-car collision, which involved multiple vehicles crashing at the intersection where the two roads meet.
Multi-Vehicle Crash Shuts Down Bianchi Road in North Stockton
Authorities pronounced the unidentified woman, who was driving one of the vehicles, dead at the scene. The male passenger, also believed to be in his 60s, sustained unknown injuries and was taken to a nearby hospital, where he remains in critical condition.
Stockton Police Still Investigating What Caused The Accident
The exact circumstances surrounding the crash are unclear, and authorities have not released any information about potential causes, such as distracted driving, speeding, or impaired driving. Stockton Police Department officials have called on any witnesses to come forward with information that could help the investigation.
The incident is a tragic reminder of the importance of safe driving practices, particularly at intersections. Drivers should always be aware of their surroundings, follow traffic signals and signs, and avoid any distractions that could divert their attention from the road. The police have not released any additional details on the investigation or possible charges.
Our condolences go out to the family and friends of the woman who died in this terrible crash.
---
---
Hire an Accident Attorney Near Stockton
If you or a loved one has been injured in an auto collision, Accident Lawyer strongly encourages you to call our Stockton car accident lawyers. Your experienced Car Accident Lawyer will provide you with the best legal representation and guidance that you need. Our offices are conveniently located throughout California and we conduct regular travels in the region to meet with clients. Contact Car Accident Lawyer today.
Recent Car Accidents Reported On Our Accident Blog
Downtown Los Angeles Wrong-way Crash Kills One Pedestrian, Seriously Injures Another
Multiple Crashes on Highway 101 in San Luis Obispo Cause Damage
Man Walking across State Route 67 in Ramona is Struck and Injured