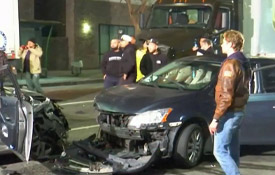 LOS ANGELES, CA (November 22, 2022) – On Friday night in Los Angeles, a wrong-way driver struck two pedestrians, killing one and seriously injuring another in the downtown area. The November 18 crash occurred at Olive Street and 9th Street.
According to authorities, the two pedestrian were walking within a crosswalk that is marked when a vehicle–described as a Lexus, silver in color–struck them.
The pedestrians were sent airborne by the force of the crash, and they came down in the roadway.
The suspect driver drove away from the crash site, and hit a vehicle head on after striking the pedestrians.
Reports say the suspect driver tried to also flee from the second crash site by smashing the vehicle he was driving between a car and a tractor trailer.
Witnesses detained the suspect driver until officers arrived on scene.
Responders from Los Angeles City Fire took the pedestrians to a hospital in the area.
One of the pedestrians died in the hospital. He was identified only as 36 years old.
His name and city of residence have not been reported.
The other victim suffered injuries that were described as severe. His current condition is not known.
He was identified only as 32 years old. His name and city of residence are not yet reported.
Reports do not say if anyone was injured in the vehicle that was struck head on in the second crash.
Authorities arrested the suspect driver. He was identified as John Joseph Hansen Madarang, a resident of Los Angeles, 39 years old.
Investigators are continuing their work to collect information regarding the crashes. If anyone has information about the incident, the person can call Juan Campos, who is a detective.
The number is 213-833-3713.
Calls can be made anonymously to L.A. Regional Crime Stoppers.
That number is 800-222-8477.
Hire an Accident Attorney in Los Angeles
If you or a loved one has been injured in an auto collision, Accident Lawyer strongly encourages you to call our Los Angeles car accident lawyers. Your experienced Car Accident Lawyer Los Angeles will provide you with the best legal representation and guidance that you need. Our offices are conveniently located throughout California and we conduct regular travels in the region to meet with clients. Contact Car Accident Lawyer today.