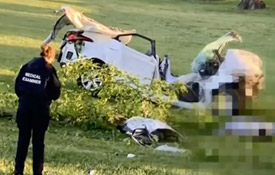 Lodi, CA (May 10, 2023) – On Monday, two individuals, Jess Bradford Jr., aged 21, and Michael Wyrick, aged 16, lost their lives. The incident happened after the stolen Hyundai they were driving collided with a fence and a tree at Peterson Park in Lodi. The Lodi Police Department is actively looking into the incident.
Two Killed in Police Chase at Palm Avenue and California Street
Officers spotted two vehicles leaving the scene, closely following each other. The suspects sped off in different directions, prompting a chase by the police, which was later broken off.
Approximately 30 minutes later, police received reports of gunshots and glass breaking at Peterson Park. Upon investigation, authorities discovered that the noise was from a car that had crashed into a fence and tree at the park. Bradford and Wyrick were pronounced dead at the scene.
---
---
Deadly Lodi Car Crash Possibly Linked to TikTok 'Kia Challenge'
Police in Lodi, CA are currently investigating a tragic car chase that resulted in a fatal crash, with suspicions arising about a potential link to a dangerous TikTok challenge.
Police Believe There Are More People Involved
Authorities have reason to believe that the two men were associated with a group that had stolen both the Hyundai and a Kia on the previous night. This theft may be connected to the popular TikTok "Kia challenge," which involves the unauthorized starting of both car models using a USB drive for ignition purposes. CBS has reported on this possibility.
Prior to the crash, Bradford, Wyrick, and the individuals driving the stolen Kia, which is still missing, engaged in a prolonged chase with the police. The pursuit was eventually discontinued when the drivers of the stolen vehicles turned off their lights, according to the LPD.
Witnesses Were Left In Bewilderment
The unnamed owner of the Kia expressed bewilderment over the situation, stating, "Like all my stuff, I'm just like … I have no idea where it is. It's crazy," as revealed in an interview with CBS.
An eyewitness, Gannon Shumer, shared his astonishment, mentioning that one of the stolen vehicles caused damage to his parked car during the police pursuit. Reflecting on the incident, he said, "I'm still kind of mind-blown by how it even happened and how this happened, how he got all the way out there. It's just crazy."
The Rate of Hyundai & Kia Thefts Have Increased Since The Video On TikTok Started
Unfortunately, this is not the first instance where TikTok has been associated with a fatal crash. Last autumn, four teenagers from Buffalo lost their lives in a high-speed crash while riding in a stolen Kia.
Police departments throughout the United States have observed a rise in thefts involving Kia and Hyundai vehicles since the first video showcasing this trick was shared on TikTok in the summer.
Hire an Accident Attorney Near Lodi
If you or a loved one has been injured in an auto collision, Accident Lawyer strongly encourages you to call our Lodi car accident lawyers. Your experienced Car Accident Lawyer will provide you with the best legal representation and guidance that you need. Our offices are conveniently located throughout California and we conduct regular travels in the region to meet with clients. Contact Car Accident Lawyer today.
Recent Accident News In California
Multiple Crashes on Highway 101 in San Luis Obispo Cause Damage
Bakersfield Man Killed Crossing California Ave.