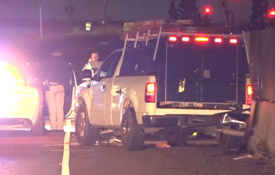 Fremont, CA (May 15th, 2023) – Tragedy struck in the early hours of Sunday morning. On May 14 a selfless Good Samaritan lost their life in a hit-and-run crash on the 880 Freeway in Fremont.
The fatal incident occurred at approximately 2:40 a.m. near Mission Boulevard. According to the California Highway Patrol (CHP), a Chevrolet had crashed on the off-ramp. of the freeway. The incident occured under circumstances that remain unknown.
Ford F-150 Suddenly Veered On To The Shoulder At The Wrong Time
Upon witnessing the accident, two Good Samaritans in a Mitsubishi, pulled over to offer their assistance to the Chevrolet driver. Together, they managed to guide the damaged vehicle safely onto the off-ramp shoulder before parking their own car behind it.
Tragically, a shocking turn of events unfolded afterward. When the Mitsubishi passenger stepped out of the vehicle to communicate with the Chevrolet driver he was struck. A male driver operating a Ford F-150 suddenly veered off course and careened onto the shoulder, colliding forcefully with the rear of the Mitsubishi. The impact from the crash propelled the Mitsubishi forward, tragically striking and instantly killing the female passenger.
Driver of Ford F-150 Ran Off On Foot. Investigation Remains Open
In a shocking twist, following the collision, the driver of the Ford F-150 swiftly abandoned the scene on foot, leaving behind the devastating aftermath.
Law enforcement authorities subsequently arrested the driver of the Chevrolet on suspicion of driving under the influence of drugs or alcohol, adding another layer of tragic circumstances to this already heartbreaking incident.
The investigation into the hit-and-run crash remains ongoing as authorities work diligently to apprehend the responsible driver and piece together the events leading up to the fatal collision. The CHP urges anyone with information related to the incident to come forward and assist in bringing justice to the grieving family and loved ones affected by this senseless tragedy.
As the community mourns the loss of a brave and compassionate individual, this unfortunate incident serves as a stark reminder of the dangers that persist on our roadways and the critical importance of exercising caution and responsibility while driving.
---
---
Hire an Accident Attorney Near Fremont
If you or a loved one has been injured in an auto collision, Accident Lawyer strongly encourages you to call our Fremont car accident lawyers. Your experienced Car Accident Lawyer will provide you with the best legal representation and guidance that you need. Our offices are conveniently located throughout California and we conduct regular travels in the region to meet with clients. Contact Car Accident Lawyer today.
Recent Accident News
Stockton Woman Killed in Multi-Car Crash
Chico Man Hit By Car On Nord Ave. Rushed To Hospital
Lodi Police Chase Involving Stolen Vehicle Ends in Deadly Crash