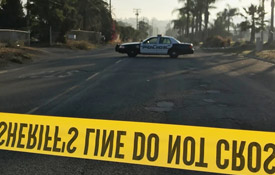 Riverside, CA (May 17, 2023) – A DUI crash at the intersection of Magnolia Avenue and Skofstad Street in Riverside on Sunday evening left a 36-year-old man critically injured. The incident took place at approximately 10:00 p.m., prompting an investigation into the circumstances leading up to the collision.
Mercedes Benz Driver Strikes Man Walking In Crosswalk
According to the Riverside Police Department, a 34-year-old resident of Corona was behind the wheel of a 1999 Mercedes Benz, traveling westbound on Magnolia Avenue between Skofstad Street and La Sierra Avenue. It was at this location that the driver struck a pedestrian who was in the process of crossing the street.
Paramedics arrived promptly in response to the emergency call and transported both individuals to Riverside Community Hospital for immediate medical attention. Sadly, the pedestrian's injuries were severe, and he remains in critical condition as medical professionals work tirelessly to stabilize his condition.
Riverside Police Still Investigating Suspicion of DUI
Meanwhile, the driver of the Mercedes Benz underwent medical evaluations, which concluded with his clearance. However, law enforcement officials subsequently took him into custody on suspicion of driving under the influence (DUI). The authorities transported the driver to the Robert Presley Detention Center, where he is currently awaiting further legal proceedings.
As the investigation unfolds, authorities are actively gathering evidence and conducting interviews to establish a comprehensive understanding of the incident. Law enforcement agencies are collaborating with specialized units to assess the extent of impairment and any other contributing factors that may have led to the collision.
It Is Never A Good Idea To Get Behind The Wheel of a Car When Impaired
The Riverside Police Department emphasizes the gravity of driving under the influence and urges individuals to make responsible decisions when it comes to operating vehicles. This unfortunate incident serves as a stark reminder of the potential consequences associated with impaired driving.
The authorities maintain their commitment to conducting a comprehensive investigation to ensure the delivery of justice. Updates will be provided as new information becomes available, urging anyone with relevant information to come forward and assist in shedding light on the incident.
---
---
Hire an Accident Attorney Near Riverside
If you or a loved one has been injured in an auto collision, Accident Lawyer strongly encourages you to call our Riverside car accident lawyers. Your experienced Car Accident Lawyer will provide you with the best legal representation and guidance that you need. Our offices are conveniently located throughout California and we conduct regular travels in the region to meet with clients. Contact Car Accident Lawyer today.
Recent Pedestrian Accident News
Man Walking across State Route 67 in Ramona is Struck and Injured
Downtown Los Angeles Wrong-way Crash Kills One Pedestrian, Seriously Injures Another
Bloomington Crash Kills Adult and Child Pedestrians: DUI Suspected